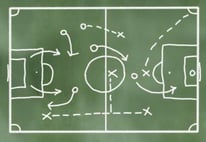 A successful open enrollment means a lot more than ACA renewals and sales. It is about utilizing the time to reach out to all of customers and offer them the full spectrum of Compass Health Products. For many the process can seem overwhelming. However, if you prepare and stay organized OE 2022 could be your best one yet.
"Failing to prepare is preparing to fail" –  John Wooden – UCLA Men's Basketball coach with 10 NCAA Championships
1.) Start with STM Customers – We know there is no set period or "OE" for STM customers but by synchronizing it with OE we allow are clients the opportunity to jump seamlessly to an ACA plan if ever it became medically necessary. Also, it is when people are thinking about
health insurance.
Review all your customers – Take time to look through your book and see who is up for renewal, turning 65, dependents turning 30. All are opportunities and should be your very first calls.
Do not neglect anyone – After you move through the first group. Then it is time for the check in calls. You should talk to your clients at least once per year if not more. While reaching out to see if all is well made sure you're reinforcing the importance of Life with Living Benefits especially with COVID-19 reminding people how fragile life is we need to remind our clients we have protection to assist their families.
2.) Current ACA Clients – We want to spend the OE period gathering new Business. However often agents become buried in renewals because they waited to OE to begin to start on them. You have all their contact information why wait. Contact them now.   
Has anything changed? – Has their income went up or down, gotten married or divorced, had a child, turning 65 all are thing that would affect their ACA plans.
American Rescue Act – This could allow you to sell more USABLE than ever before. Most people never adjusted their subsidies in the middle of the year and have no idea their subsidy has been increased. When you look to do the renewal add Dental and Accident on each plan and present that as the first number for 2022. With the subsidy increase being given to most of our clients they may actual be paying less in 2022 with Full Benefits then they did in 2021 with just health insurance.
Do not Forget Life with Living Benefits – Remember Life with Living Benefits is for everyone. Who can afford to be out of work for 6 months to a year? NOBODY! Make sure you offer your ACA clients the opportunity to protect their families. Almost everyone can afford a dollar a day.
The Florida Blue ACA Advantage – with more ACA Competitors than ever now in the ACA space, knowing and understanding the litany of advantages FB ACA's plans offer is key to your success. The FB ACA product is head and shoulders above the competition not to mention having the #1 Brand.
The Florida Blue ACA Advantage
Tuesday, October 26th 2:00 PM
Register Here
No two agents will have the same OE Game Plan, but I think this will help you craft your Game Plan for Open Enrollment 2022! Do not wait start preparing today and this could be your best Open Enrollment Ever!
Any questions please contact sales support in the home office. (772) 546 – 2299