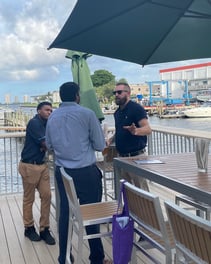 Compass Health has partnered up with our local Dedicated Senior Centers throughout Florida. This is a HUGE opportunity to generate Medicare Advantage sales.
Our Florida Blue Medicare Certified agents are being paired up with Dedicated Marketing Growth Consultants to work events and table tops to bring in prospects to their centers. Dedicated only takes Medicare Advantage HMO's and are only contracted with few carriers, including Florida Blue. The agent / MGC's role in working together is vital. Their MGC's lean on us as agents to enroll the prospects into the MAPD plan. Our job as agents is to help encourage and educate our clients on the VIP concierge style facility and to set up tours of the centers with your assigned MGC for the clients. They have centers in Miami, Broward, Palm Beach, Orlando, Jacksonville, and throughout the Tampa area.
Take the next step and make sure to reach out to your local Dedicated Center (or me) to establish a relationship before this upcoming AEP. 
Any questions contact sales support in the home office. (772) 546 – 2299