If you have not noticed our industry has over the last decade, been in an almost constant state of change. People have no clue as to what is going on with their own health insurance. They want more then anything to understand their health plan and have someone they can rely on when they need answers. As agents we sometimes forget our primary responsibility is to make sure our clients have the best coverage available and understand how to use it correctly. You can not do that if you are not taking the time to understand what is going in your industry. Agent Education may not be the most exciting part of our job, but it is one the most essential. When you are laying out you schedule this week make sure you allow time to read up on changes in the ACA and to study the details of the products you sell. This is not all about customer service. It is about expanding your book of business and increasing your sales. By providing your current customers with the best possible level of service you will increase the number of referrals you receive. I was told when I first got into sales that I would always do well if I remembered the "Rule of 5".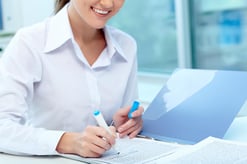 "When customers receive good service, they tell 5 people. However, when they receive bad service, they tell 5000."
I would much rather receive 5 referrals from my customer then have all the people in my community hear from my client that I do not know what I am doing. Make sure you remember this when you are making your calendar up for next week. Be sure to include some time for your agent education.
Read New articles about ACA and changes.
Attend Webinars
Read Product Guides
Watch videos on different Compass Products.
There are lots of ways to stay on top of your agent education. Take the time to make sure you are on top of
the latest information.
Any questions on requirements and certifications please ask your manager or contact sales support in the home office. (772) 546 – 2299